Sisu
Hunting place of lynx.
Photo: Ingmar Muusikus
Estonian text posted by the Animal of the Year Team 07.04.2018
Translation Liis
On the  threshold of the snow melting Ingmar Muusikus adds one more story about lynx tracking  as send off for the  winter.
In mid-March I was driving in Kõrvemaa along roads between bogs towards the Kiigumõisa springs. The hope of finding fresh animal tracks was non-existent because of the dense snowfall that had just ended. At a dilapidated farmhouse I stopped. I got out of the car and … a few steps away there were completely fresh lynx tracks! The lynx had passed here no more than 5 minutes ago. An earlier track row would have been erased by the snowfall. With the "hot" tracks in sight the excitement in the soul of the tracker had risen sky-high.
Who has pursued the tracks of a lynx knows that the task is not an easy one. The forest cat likes to climb through dense brushwoods and jumps easily across ditches and  brooks of 2-3 meters. In this landscape all this is present which makes going in the tracks of the lynx complicated. To start with there were some higher alders. then tangled snowy bird cherry and alder buckthorn shrubs, after that crossing a couple of spring-fed brooks. And again watery copses that forced the tracker to crawl, crunch, swear silently… If you want to stay on the track you must follow all the quirks of the lynx.
At last I reached the verge of a boggy spring area with a good view. It would have been a good spot to get a photo of the lynx. It had moved straight across the open area into a spruce stand. Here in the shelter of a shrub it would be worthwhile to use a lure. I picked a whistle imitating the distress call of a hare. and blew a long rattle just like I thought that a rabbit in distress might scream. Silence! I waited for some tense minutes. Still no-one! I tried to call once more. The lynx evidently had no plan to come to inspect the distressed complaining long-ear. I put the whistle back into my pocket and went to investigate where the lynx had gone.
Soon a surprising fact appeared. While  I was making hare sounds the lynx had killed a real hare!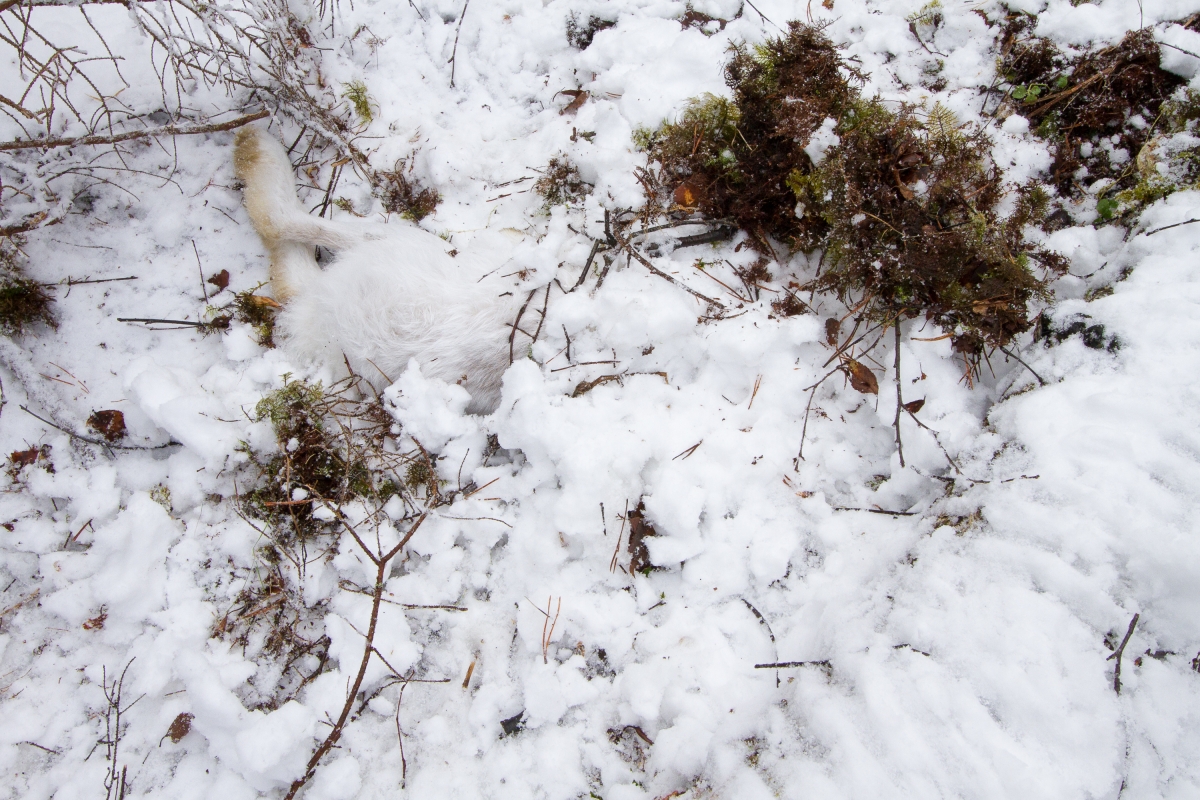 The victim turned out to be a white hare in its winter coat. Because I came across the lynx straight away it had no time to start eating its prey. It had hidden the rabbit, scraping  snow on it in a hurry, then fled with long leaps. 
Setting out to trace the runaway lynx again, I soon came back to where I had blown the rabbit decoy whistle. Now fresh lynx tracks were over my tracks. The hunted one had moved away in the opposite direction, in the pursuer's tracks. We played catch as catch can for several hours more. Of course it knew that a human went after it. For a while I thought that it would be better to stay in place and wait until it turned back. But then again large snowflakes began to fall so that I was afraid that I might lose the tracks or that the lynx would move too far away. We made a tour in beautiful bog birch stands and reached a felled area filled with young aspen shrubs where it was impossible for a human to press through.
Finally dusk arrived and I had to give up. I felt that the lynx had a firm plan to go back to the killed hare and have it for an evening meal. When I went back to look the next day only a few hair tufts were left, and around them the beautiful round paw marks ofr´the lynx.
Ingmar Muusikus