Sisu
Are you a faithful husband? - Yes!
Faithful to the very end? - Yes!
Do you like pottering about at home? - Yes! 
When you answered "Yes" to these questions to visitors at the exhibition "Fathers and Sons " at the Estonian  Museum of Natural History the answer was "You are a beaver man!" A more home-focused male than the Beaver, the Animal of the Year 2019, cannot be found in nature!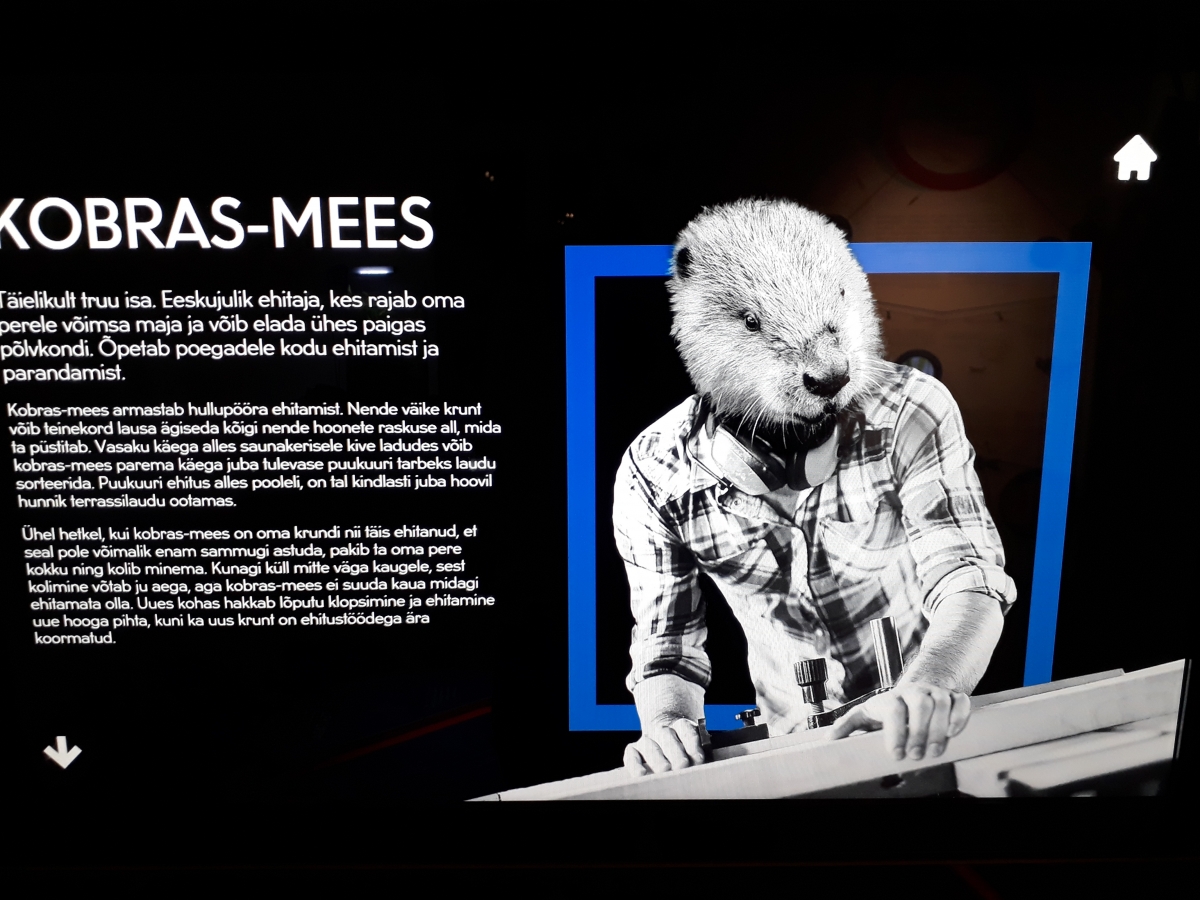 Text in photo:
The Beaver Male
A completely faithful father. A model builder who constructs a mighty house for his family and may live in one site for generations.
The beaver male loves building to distraction. Their small plot may sometimes groan beneath the weight of the buildings that he erects. While setting the stones for the sauna level with the left hand the beaver-male may already be sorting out planks for the future woodshed. With the woodshed building only halfway through he already has a load of planks ready for the yard.
The moment when the beaver has built his plot so full that no step can be taken there he packs his family up and moves. In the new place an endless banging and building starts freshly, until the new plot too has become overfull with constructions. 
"Beaver Man   A totally faithful father. An exemplary builder who constructs a mighty residence for  his family and can live for generations in one place. Teaches his offspring the building and repair of a home."

The photo is from the exhibition "Fathers and Sons" with interesting things to discover about other male animals too. The exhibition will remain open at the Natural  History  Museum throughout the whole year.
 In Looduskalender we will  start the Beaver Year by introducing the beaver's way of life and family relations. A beaver camera is also coming – we will show beavers busy in nature in winter-spring when the beaver family once more put their noses out from their lodges. Until then we will continue with the lynx camera. During January we will also create a beaver home page and announce the festive opening ceremony of the animal of the year that will take place in the afternoon of January 31st in the Tallinn Zoo Environmental Education Centre. 
Happy Beaver Year!
Photo: Tarmo Mikussaar
Text: Helen Arusoo
English translation Liis