Sisu
The water shrew is a enigmatic and shy animal that most people never have even heard about. This small mammal is however definitely present in our nature and moreover quite common!
 I clearly remember my first encounter with a water shrew – it took place behind a beaver dam where I was stalking a kingfisher. The beaver had dammed the water in a small stream. Lying there for hours I noticed that a very small, agile creature was busy in the water. The top of its head touched the water surface only for a moment when it dived again. Who was it? Finally I managed to see the little animal – looking like a shrew but liked to move in water. Getting home with this information I started to search in books and I did find it in the Soricidae family – it was a water shrew!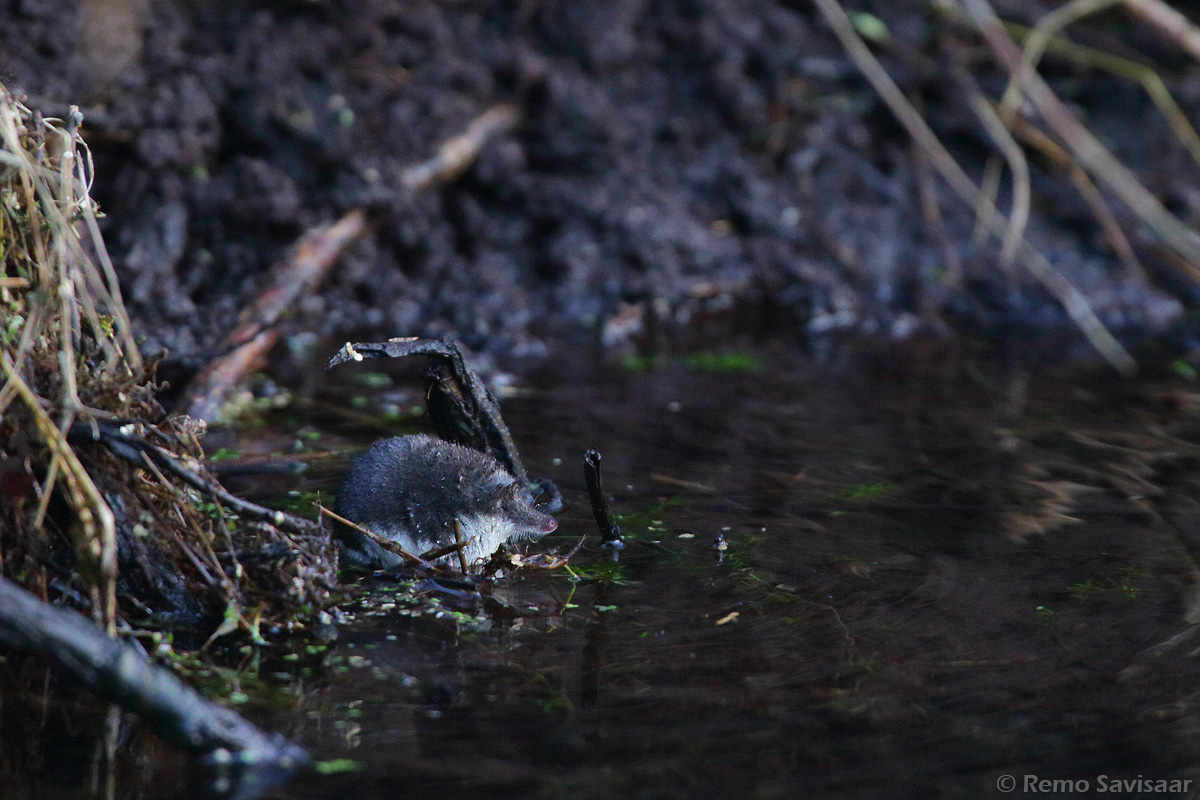 Shrews are the smallest mammals in the world, with a body weight of 2,5-180 grams, Characteristic for them is an elongated head and a mobile pointed muzzle and tiny eyes. The weight of  a water shrew is 8-23 grams, body length 6-9,6 centimetres and a tail of 4,5-7,5 centimetres. It is the largest shrew family member in Scandinavia. The back of the water shrew is blackish and its belly whitish grey . It has a head with a very pointed muzzle. The water shrew leads a semi-aquatic life, it is an excellent swimmer being adapted to life in water – on the underside of its tail there is a fur keel that it uses as a rudder on swimming. On the sides of its hind paws and between the toes there are swimming hairs that act as flippers on swimming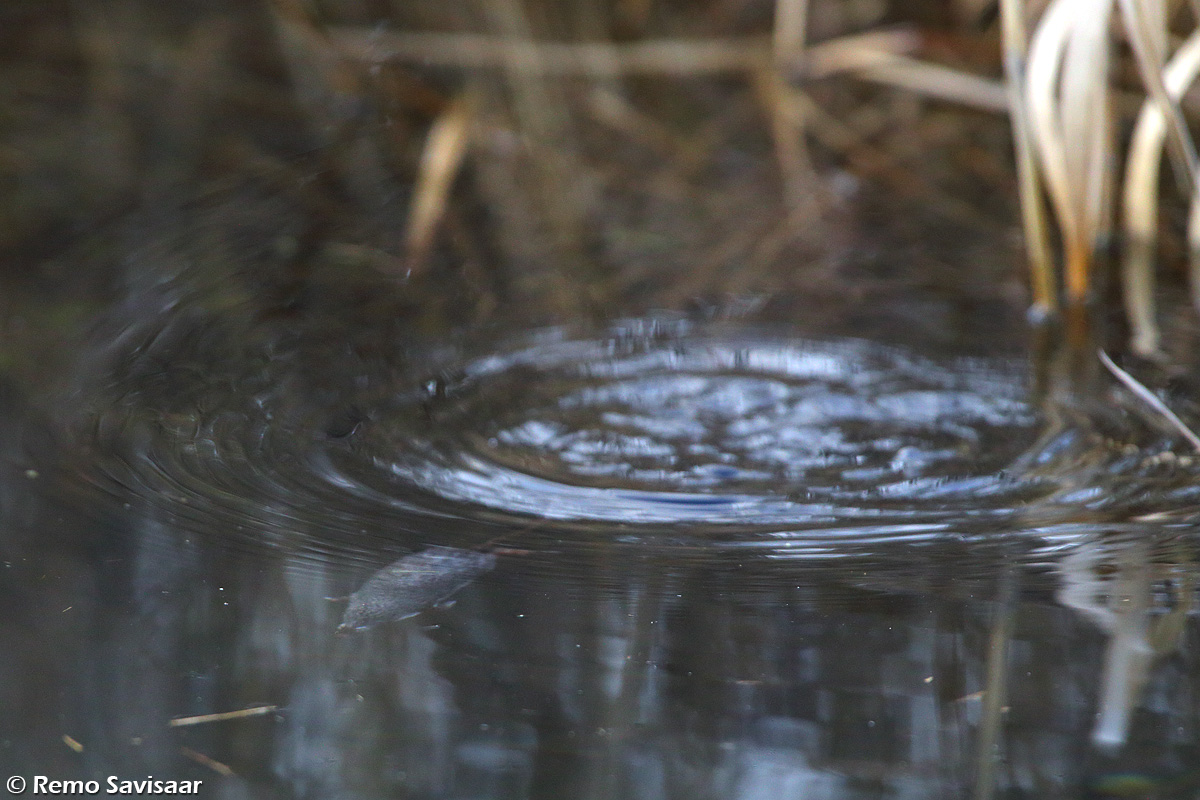 The water shrew is present all over Estonia, mainly inhabiting the shores of water bodies, wet meadows and wetlands in forests. Most of my meetings with water shrews have taken place  at streams, rivers and smaller lakes. For its nest the water shrew builds an extensive tunnel system in the bank of the water body, lining the nest chamber with plant material. It lives in a defined territory with a range of up to a couple of hundred meters. It is a mammal with mainly nocturnal activity .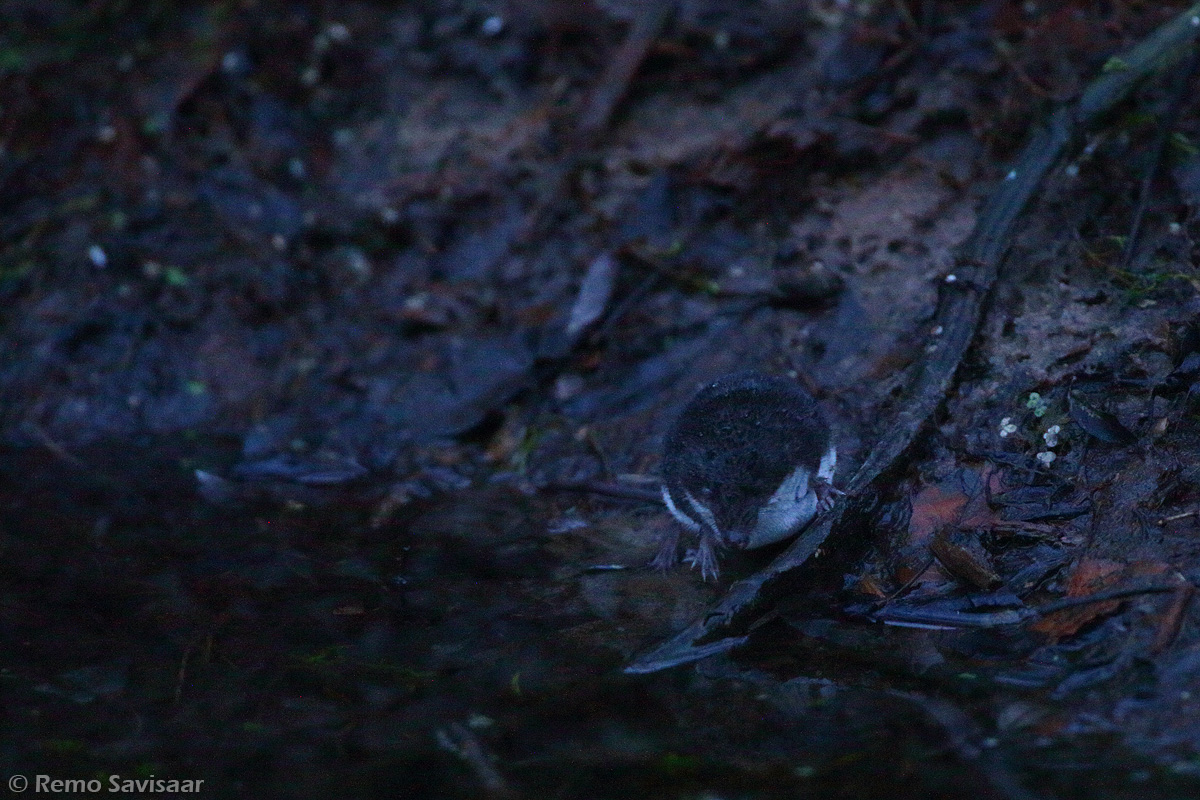 The water shrew is an insectivore, eating water insects and their larvae, crustaceans, worms, snails, fish and smaller amphibians. The water shrew also has a secret weapon – it is one of the few mammals with poisonous saliva. With the saliva it paralyses larger prey animals. The prey is then brought up on land and is eaten in a specific feeding place. I have managed to observe how a water shrew brought out a drowsy brown frog much larger than itself from the bottom mud, dragging it to the bank. After that it went away and I thought that maybe it went to call its young to eat. The daily food intake need of a water shrew is about 50% of its body weight. During the time that the shrew was absent, about two or three minutes, the frog left! When the shrew returned it looked around, puzzled, and set out to search for the frog but did not find it again.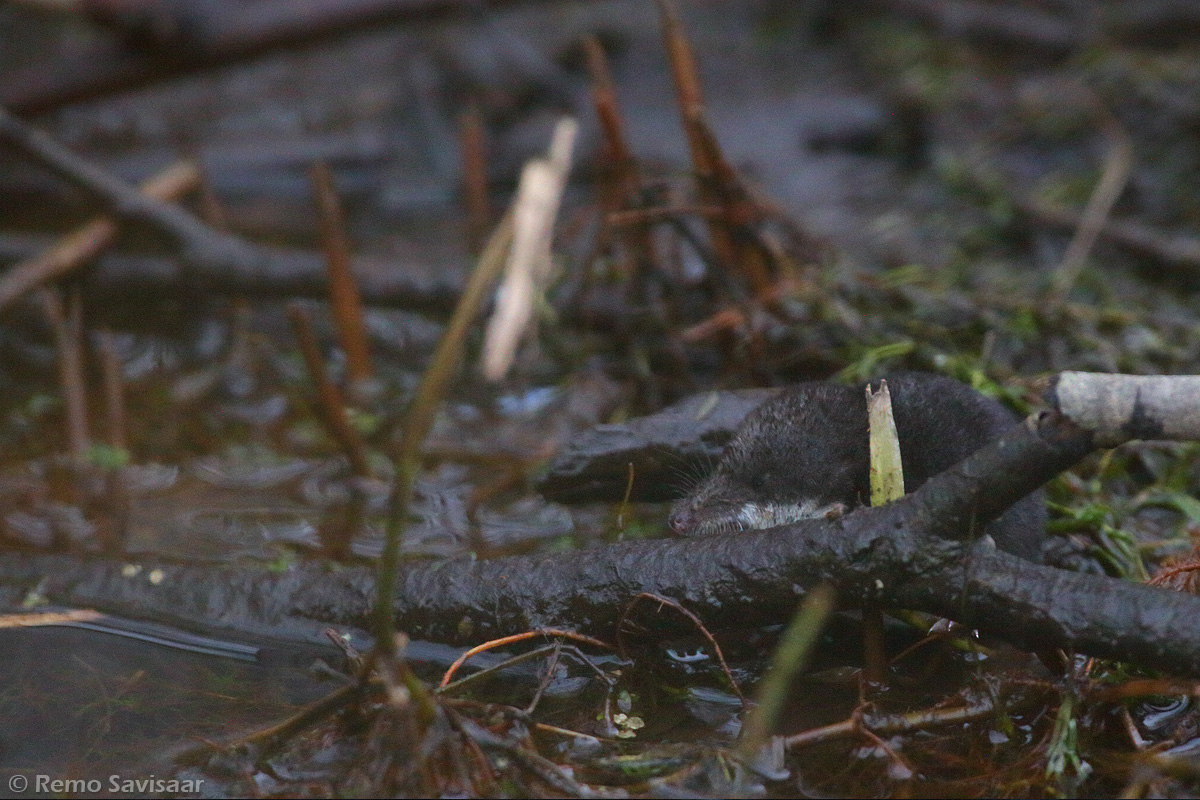 The water shrew has an ideal colour for activity on the shore – it is only revealed by the white underside and the brisk action mode.
The water shrew has a solitary way of life and like other shrews it is active throughout the year. Its breeding period lasts from April to September;  during that time at least two litters are born. There are 3-15 young that weigh about 1 gram at birth in a litter. Only the female takes care of the young. Suckling lasts about a month and the litters drift apart at about 40 days of age. Sexual maturity generally comes after wintering. Their life span is up to 19 months.
Remo Savisaar