Sisu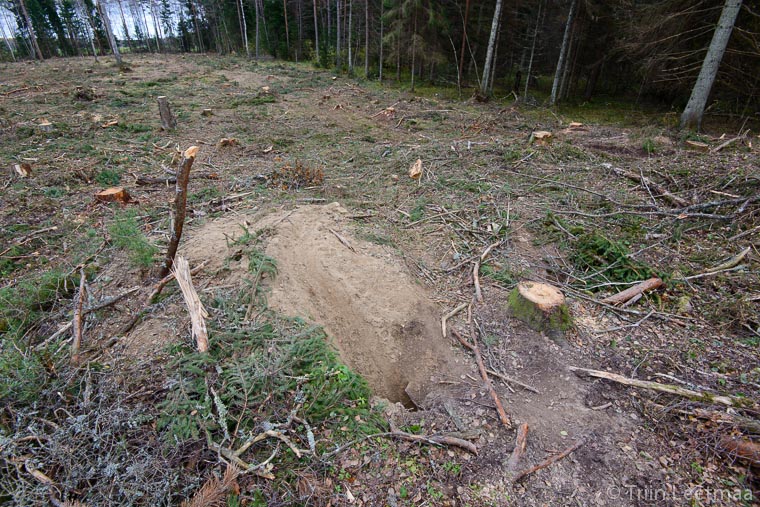 I went to see a stand of trees where according to the forest registry data tree felling was supposed to have taken place this spring. From a visit a couple of years back I remembered a badger sett on a hillock at the verge of a copse with more than 100 year old spruces and pines, but now after the clear-cutting the landscape was changed.  Heavy forest machinery had been driven straight across the sett so that several burrows and tunnels had collapsed. In the clutter of branches I did however find evidence of activity of the animals. At three burrows there were fresh marks of digging and in one tunnel an armful of withered grass and leaves were visible. Altogether I found 8 burrows but all would not necessarily be visible among the mess of broken branches. That the forest workers would not have noticed the burrows is not possible. Rather they did not let themselves be distracted by the presence of the burrows. Let us hope that the badgers will get used to their clearly more open surroundings and so will get on.
If possible, I would be grateful for comments on how badgers behave in such a situation and whether the activities of humans at badger setts are in any way regulated.
Triin Leetmaa
To statrt with we asked game monitoring specialists how a forest felling will influence badgers.
Peep Männil, leading specialist at the Estonian Environment Agency's (Keskkonnaagentuur) Nature Department:
In the hunting directives underground hunting at setts with more than 10 burrow entrances is prohibited.
It seems that the badger is faring well despite everything (that is, active forest felling). Possibly it adapts rapidly to changed conditions and maybe its known earlier conservative view with regard to its living place has changed to a more liberal-minded attitude  now.
Secondly we will ask the Department of the Environment's Nature Department how and if  protection of the habitats of badgers is regulated outside the hunting directives. Up to now all nature experts who have to do with badgers have said that a sett with more than 10 burrow openings is protected by law. Whether this is so, and how this protection should be applied in real life we will find out. When the answers arrive we will let you know.