Sisu
Posted by the Animal of the Year Team 20.08.2018 in Estonian
Translation Liis 
The most magnificent buck was brought down in 2016 by Mati Koger – its antlers were rated at 196,58 points. In the photo this pair is the first from left in the fourth row. It is the new roe deer tip trophy in Estonia.
Photo: Tarmo Mikussaar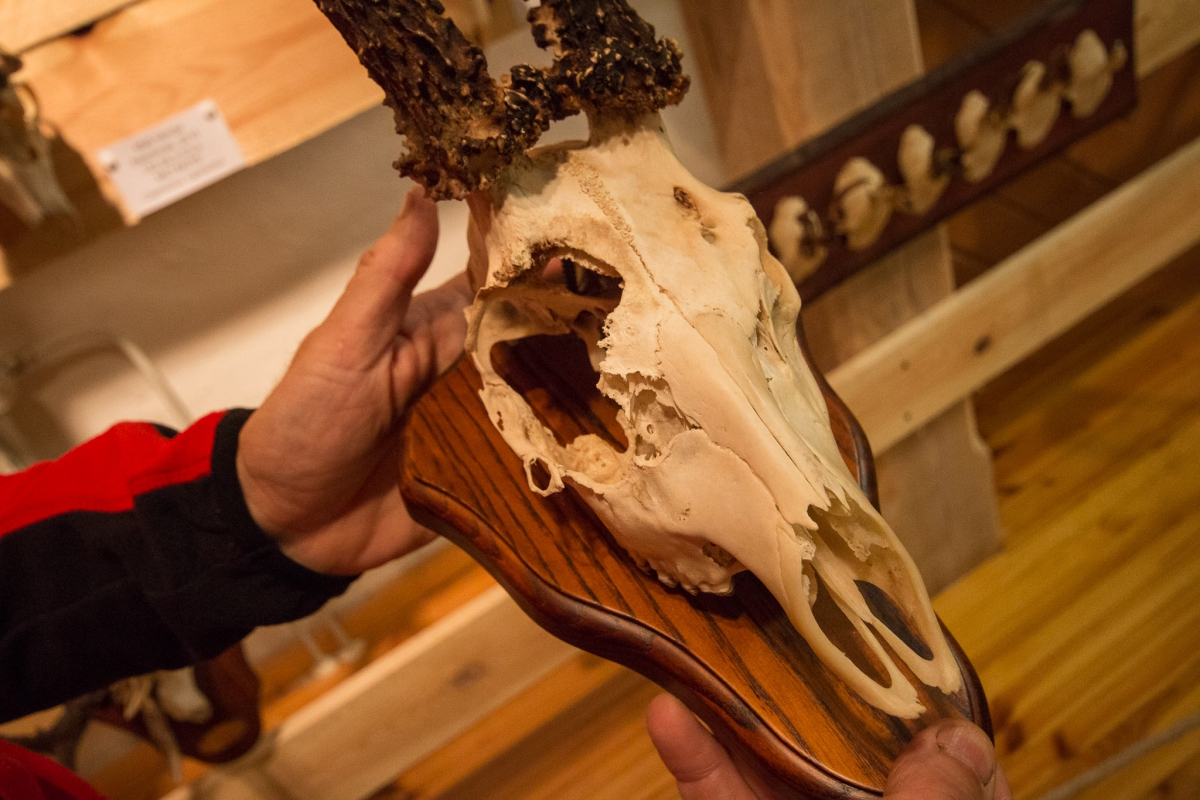 We ask Peeter Hussar, senior expert of the international game and conservation association CIC, what the hunting trophies tell us about the well-being of Estonian game animals. Peter has set up the 12th hunting trophy exposition that will be open until September15th in the Sagadi Manor forest museum

Peeter, from the trophies, what can be said about the state of the roe deer?
From an overview of the trophy display it is certainly possible to draw some conclusions about the status of some game species. If the number is large enough there will be strong specimens among the trophies. Some years ago the winters were severe, trophy level animals were few then. Now roe deer have recovered nicely from the low level that lasted years. There are powerful antlers, the genetic reserve is strong. Since the roe deer here in practice live at the northern limit of their range, in my opinion sometimes natural conditions affect their number and welfare more than human activities.
If the tradition of trophies were 100 years old it would be possible to make more serious deductions about the welfare of some species.
How are trophies evaluated?
The basis of trophy evaluation is not the same as in a sport event where the first, second, third place are determined; it is a comparison. The levels for gold, silver, bronze have been set. For roe deer 130 points yield gold, that is, all whose antlers are rated at more than 130 points get gold. For roe buck antlers the volume is determined. Weighing is done with an accuracy of grams, measuring with millimetres, calculation at the one- hundredth level. Draws as a rule do not occur..
The calculation of point levels is done separately for each species. The highest score for roe deer this year was awarded to an animal brought down by Mati Koger in 2016 - 196,58 points. It is now the new Estonian tip trophy in a 40-year period
.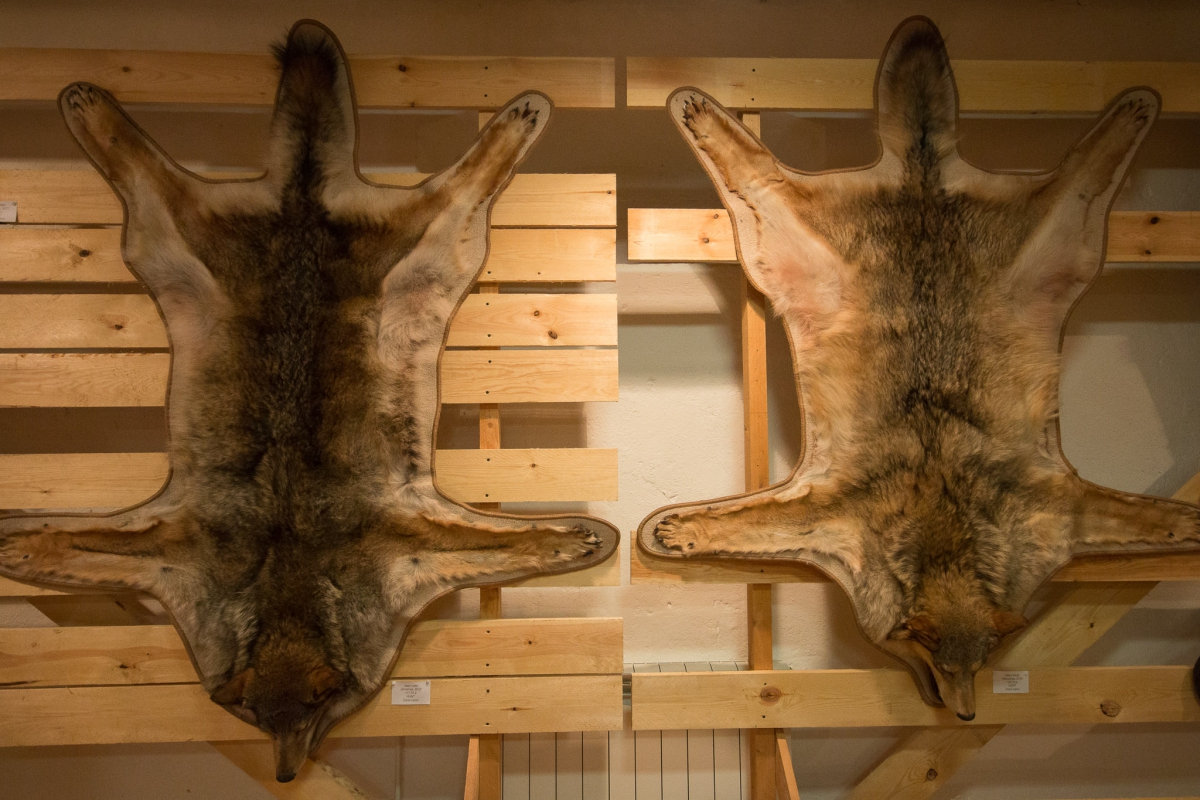 Boar tusks are many on the walls
Apparently for the last time a rich choice of boar tusks is among the trophies. The effects of the ASF are not yet visible in the display, so the collection of tusks is unique. In the hunting season 2015-16 32 000 wild boar were shot in Estonia. This was a very massive hunting result.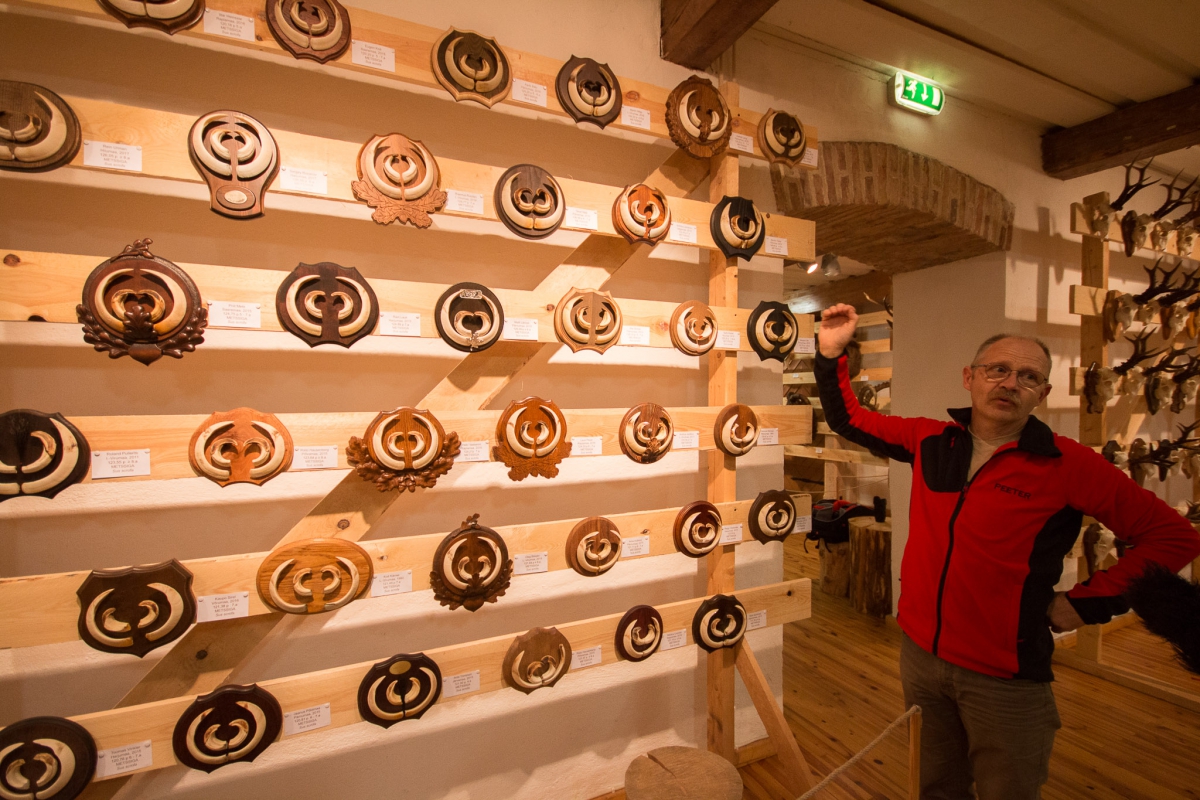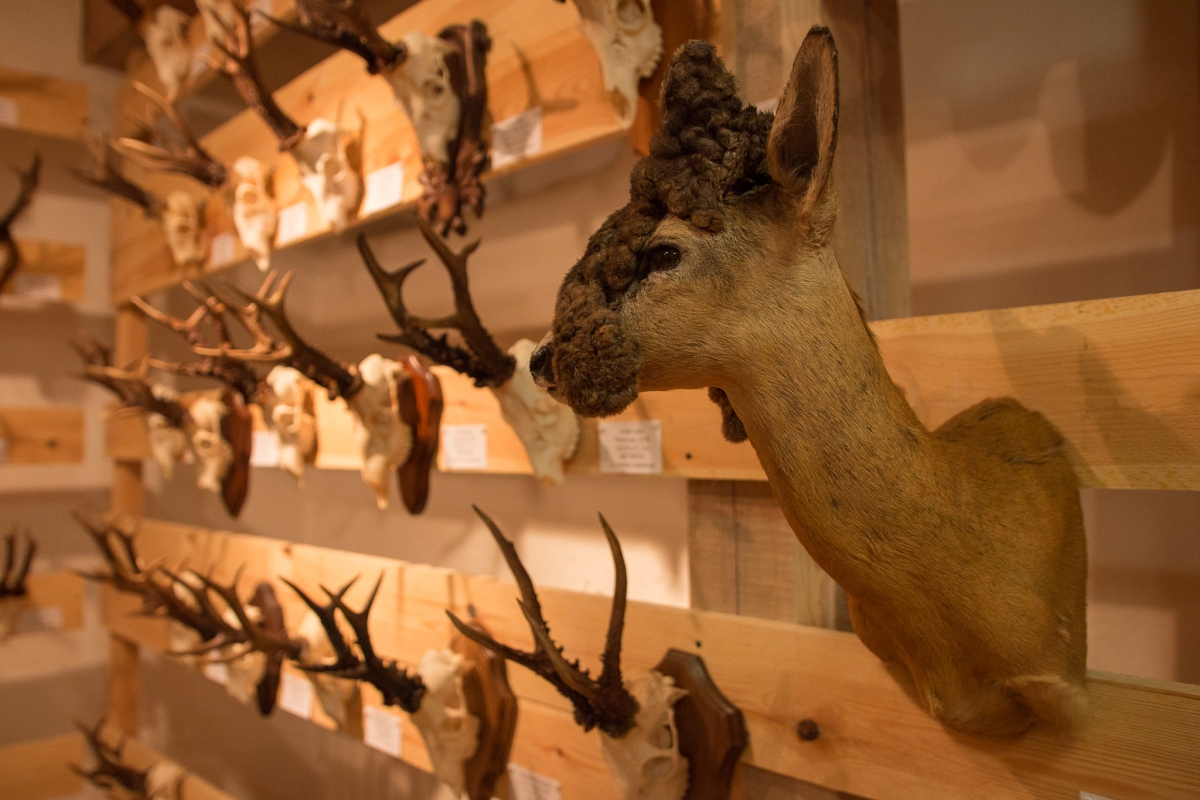 *This spring altogether 1571 hunting trophies were evaluated in Estonia which is the highest number over the years. 1328 trophies were worthy of a medal: 326 gold, 424 silver and 578 bronze trophies were issued. The hunting trophy exhibition has been arranged sinve 1968. In this year's exhibition there are trophies from elk (moose), roe deer and red deer; wild boar, lynx and bear; beaver, badger, fox, jackal and raccoon dog, craniums as well as tusks and furs. In addition some foreign species, for instance mouflons and gnus, are shown too.