Sisu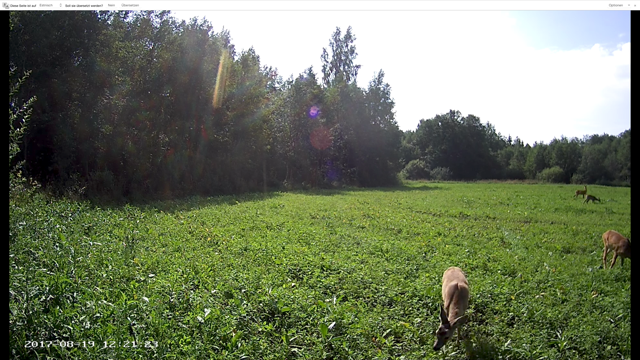 Four roe deer in camera view. Webcam image captured by Dieter Jakubowski.
Posted by the Animal of the Year Team 22.08.2017
Translation Liis
The deer online camera viewing direction has not been quite settled yet. For nearly two weeks we have tried to understand where the most deer move, if at the salt lick (somewhere in the centre of the camera view) or in the cabbage field. "80 percent of the movement goes past the salt lick after all," camera manager Omar comments. "There you can see other animals as well, such as elks and boar whose paths pass the salt lick."
In a few days we will probably move the camera even closer to the animals' path.
Since deer mainly move in early morning before six o'clock most of us are still asleep and do not see any deer. But Looduskalender watcher Dieter Jakubowski caught four deer walking in the field in broad daylight and made a couple of screencaps.
However, on watching in daytime the field is mostly quiet. But days are getting shorter and the deer start to gather in flocks by and by which means that we will see more of them in Looduskalender.
The camera is placed on the Lembitu Hunters' Society's lands.